Hardox Wear Plate
Hardox Wear Plate is a very wear resistant steel plate, which is manufactured by SSAB and sold worldwide. As this steel wears very slowly even under heavy mechanical loads, it is used in many areas of industry.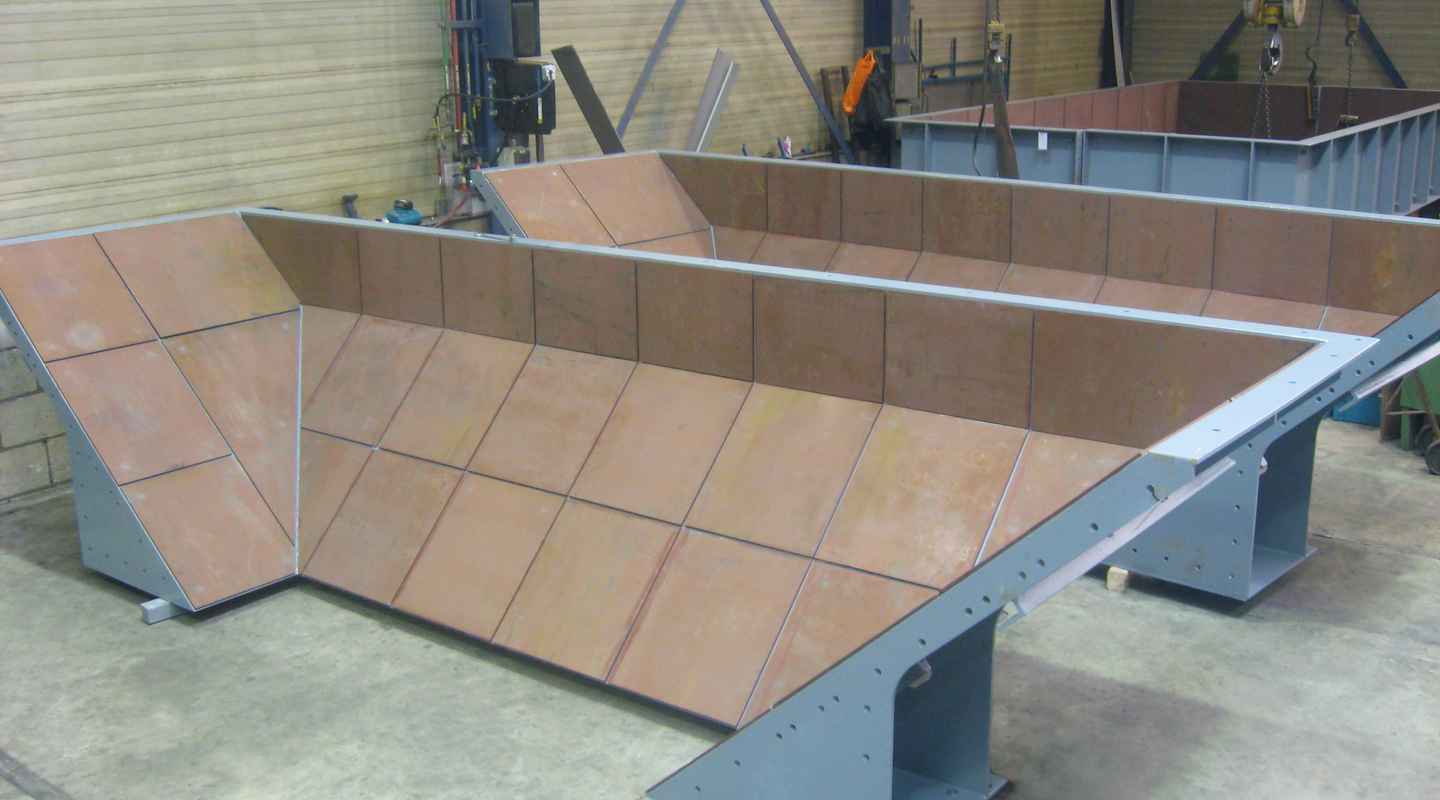 Rime processes Hardox Wear Plate
Our professional staff cut Hardox Wear Plate up to a maximum sheet thickness of 25 mm by laser using the latest machine technology. Our machine technology also allows bending in different sheet thicknesses.

Contact us if you need wear-resistant parts made of Hardox Wear Plate! We always have different thicknesses in stock and can provide you with further information.
Characteristics
Hardox Wear Plate is characterized by an even flatness, high hardness and high strength. Due to these important properties, thinner plate thicknesses can be processed for the manufacture of components made of wear plates with higher hardness levels. The weight of the constructions made from them can be reduced by a significant amount.
The very good welding and machining properties allow later repairs of wearing parts without problems.
Bending of Hardox Wear Plate
Wear plates such as Hardox Wear Plate can be cold formed by bending and roll bending. It must be noted that damage and rust deposits can reduce the flexibility. Removing these defects by grinding is essential.

The strong force applied to the high-strength steel plate can lead to cracks on the surface and parts of the workpiece surface can be blasted off in the bending zone. Therefore, it is important to ensure that the bending radius is adequately large according to the material thickness. For material thicknesses up to 8mm, a radius of 4 x sheet thickness must be selected, and for thicknesses above 8mm, a minimum radius of 5 to 6 times the material thickness must be chosen.
Drilling and tapping
Although Hardox Wear Plate is extremely resistant, holes and threads can be drilled into this wear plate. For this purpose, high-speed steel or carbide drills, 4-edged taps and appropriate machine technology are required.
Different varieties
Today, this steel is available in various grades. They differ in hardness, ductility, bendability and the possibility of welding.
Hardox wear plate 400 / 450
HARDOX wear plate 400
Plate thickness: 3 - 130 mm
HARDOX wear plate 450
Plate thickness: 3 - 80 mm

Used for the production of dump trucks, sieves, slideways, equipment for crushing rocks, excavators or even conveyor systems - very good weldability
Hardox wear plate 500 / 550
HARDOX wear plate 500
Plate thickness: 4 - 32 mm / 32 - 80 mm
HARDOX wear plate 550
Plate thickness: 10 - 50 mm
Used in conveyor systems, knives and blades, buckets for excavators, gear wheels, crushing plants - high demands on wear resistance
Hardox wear plate 600
Hardox 600
Plate thickness: 8 - 50 mm
Application with slides, crushers, hammers or shredders - high resistance to wear
Hardox wear plate HiTuf
Hardox wear plate HiTuf
Plate thickness: 40 - 120 mm
Used for tear-off tools or cutting edges - good combination of ductility and wear resistance
Hardox wear plate Extreme
Hardox Extreme
Plate thickness: 10 mm and 25 mm
Used for hammers, shredders, wear protection plates and cutters - extremely high wear resistance properties