Bending of plates | Production of bent parts
The bending of plates is one of our specialised fields. We have a total of six machines in our machine park with which we can bend plates in all common formats according to your wishes. It does not matter whether the plates are small or large. We can also process thicker plates.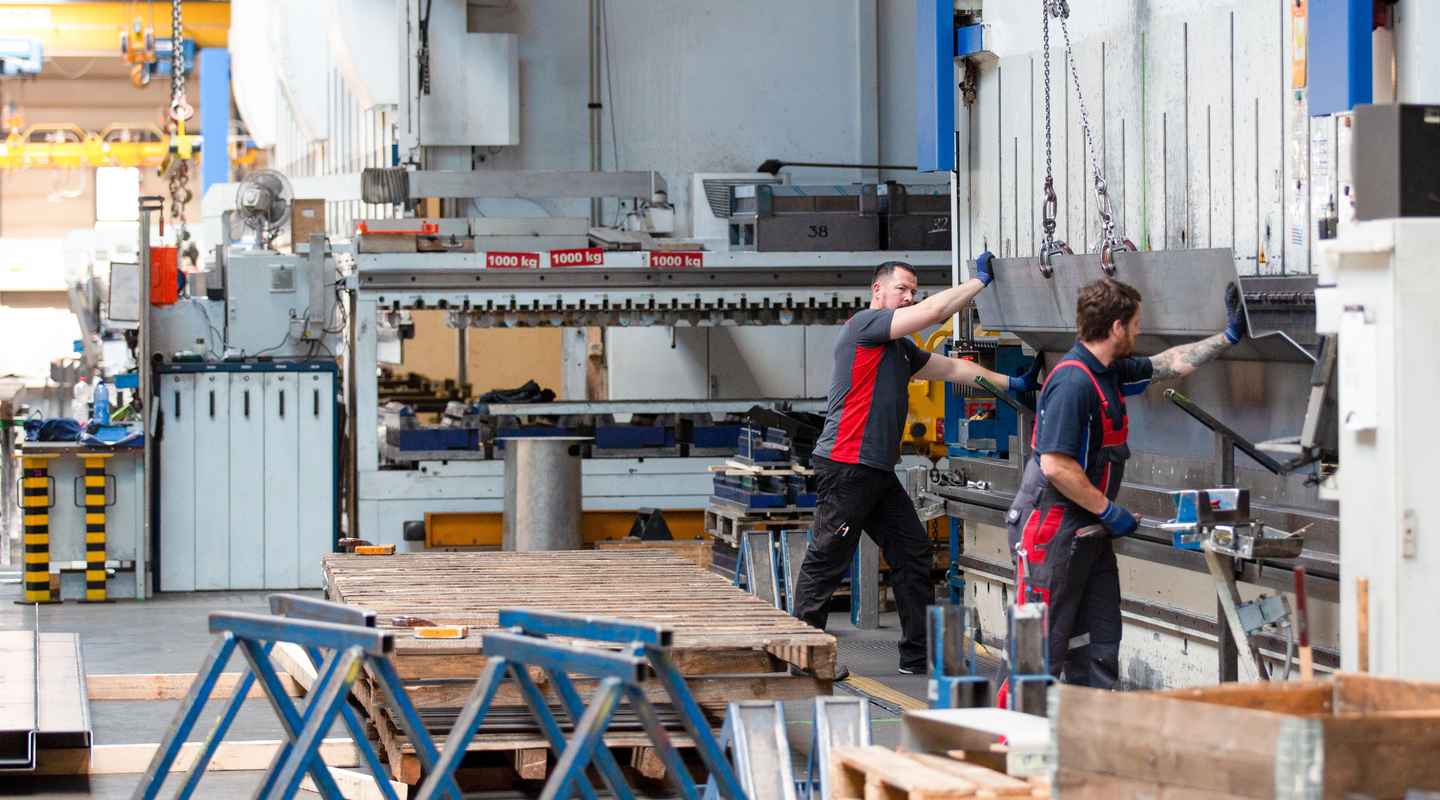 Take advantage of these possibilities!
Bending of large-format plates up to 16 m long
Bending of thicker materials
Bending of small parts
Processing of high-strength steels
Highest quality and precision through modern machine technology
You have a question about our production capabilities?
We are happy to help you! Call us or simply write an E-Mail.
Our newest machine
At the beginning of this year, we put our new TruBend 5130 press brake into operation. With a bending length of 3,230 mm, it is suitable for bending small to medium-sized plates.
It is a highly productive and powerful machine with many advantages. It offers simple and fast handling, higher precision in bending, higher productivity due to faster return speeds and, above all, higher bending reliability.
In addition, the press brake offers easy tool change and automation options.
With a press capacity of 130 tonnes, for example, plates (S235) up to a material thickness of 4 mm can be bent.
Our XXL press brake in action
The bending of plates up to a length of 16 m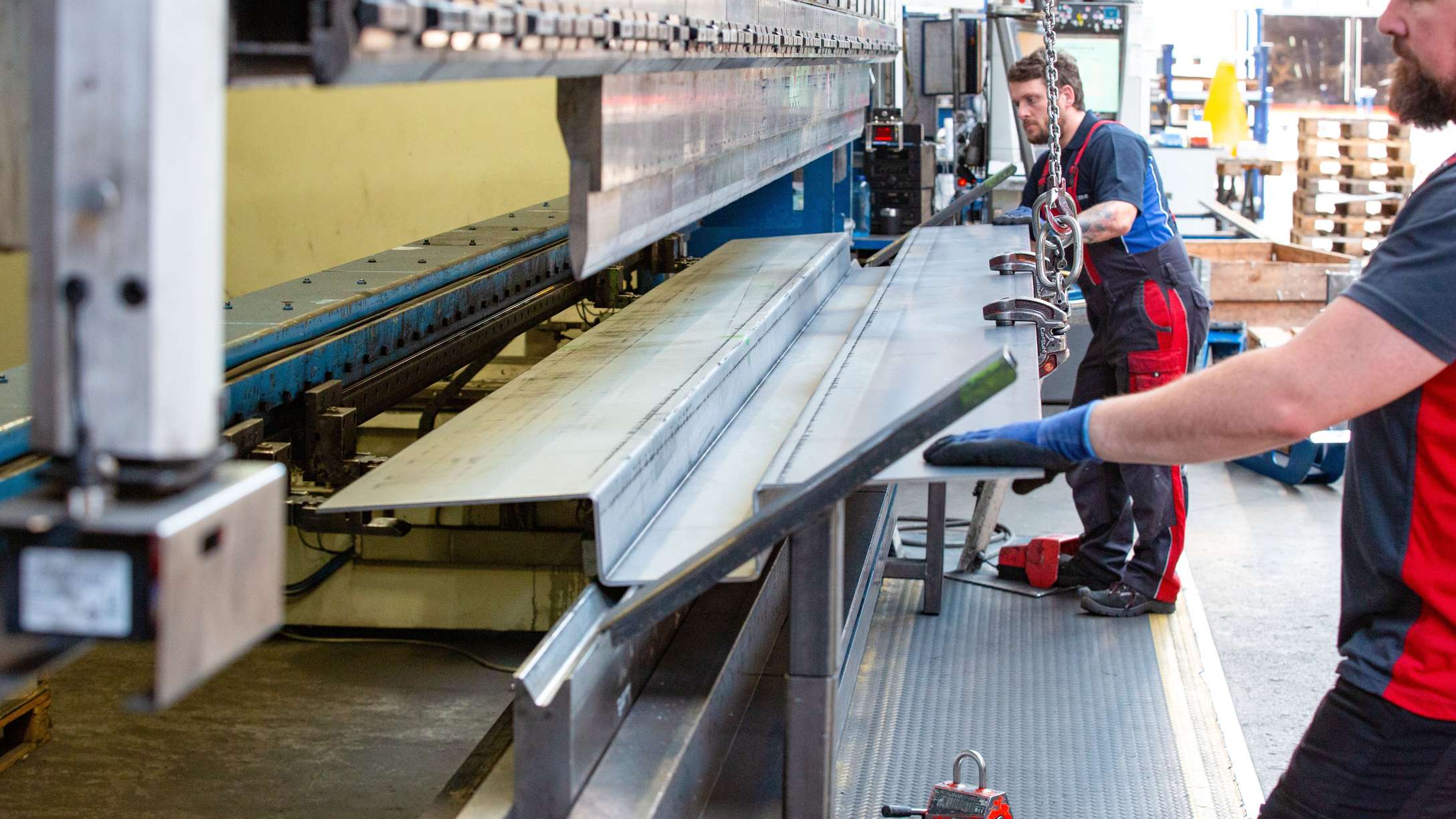 Bending of small parts
With a maximum bending length of 1,020 mm, the TruBend 7036 is our smallest bending machine, but it offers a wide range of advantages from which you can benefit.
It has extremely high accuracy.
Thanks to the integrated CNC technology, even complex bending profiles and sheet metal shapes can be processed easily and quickly.
The press capacity of up to 36 tonnes enables high productivity and precision.
The control system allows manual or fully automatic operation.
It has integrated 3D collision detection, which prevents accidents and damage.
It is equipped with an automatic tool change system that makes tool changes quick and easy.
You would like to receive an offer? - No problem!
Send us a short E-Mail with your wishes.
This is how plate metal bending works
Bending, also called folding and is one of the most important processes in plate metalworking. A press brake has an upper tool (punch) and a lower V- or U-shaped tool (die). The plate metal is placed between the tools for the bending process. By lowering the upper tool in a controlled manner, the plate is pressed into the die and a bent is is being made. This process is also called free bending. Other methods for bending plate metal are bending with embossing and three-point bending.

The CNC controls of our machines precisely regulate the lowering depth. This allows the plate metal to be bent to different angles. However, the bending process involves some details which must be observed. Not every metal behaves in the same way when it is exposed to large forces. Some types of material spring back more strongly after bending or can only be folded with bending film due to their high-quality surfaces.

The computer control also allows the simulation of bending processes. In this way, the lowering depth of the punch can be optimally planned without having to make test bends. The CNC control also helps to maintain the minimum bending radius.
Did you find all the info you need?
Just contact us if you should have further questions!