Laser Cutting
We use laser cutting as a separation process for plate metal made of steel, rustproof steel and aluminium. The cutting is CNC-controlled with modern cutting methods such as CoolLine and BrightLine.

It is possible to cut thicker material with our fiber laser!
Cutting in the working area up to 16 x 4 m
Laser cutting is one of our most important processing methods. With our CNC laser machines, we can process a wide variety of plate metals. Our machines are equipped with these processing areas:
16,000 x 4,000 mm
6,000 x 2,000 mm
We use the BrightLine and CoolLine cutting processes for top quality sheet metal cutting.
Laser parts with higher material thicknesses
With our fiber laser, we can cut much higher material thicknesses. This machine has over 15,000 watts, which is almost three times the power of conventional laser systems. Due to the enormous output, this machine is not only able to cut thicker sheets, but also achieves a much higher cutting speed with thinner thicknesses. Up to 150 meters per minute is the highest speed possible with this machine. The working area of this machine is 6,000 x 2,000 mm.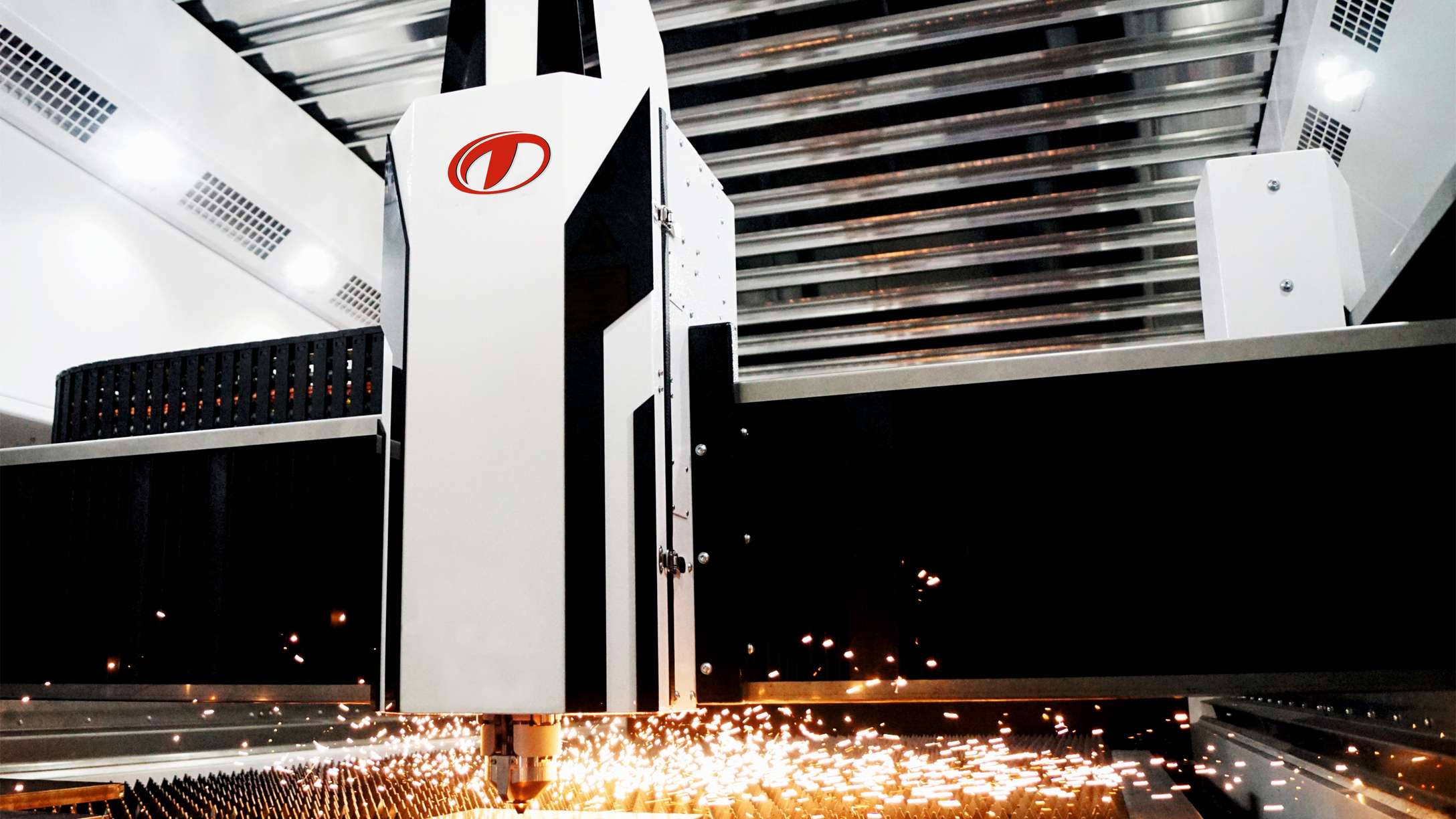 With our laser machines we are able to produce large and small parts effectively and in good quality.
Chamfer laser cutting is possible up to 45° and up to 16 meters length!
Contact us
Would you like an offer or do you have a question about our manufacturing capabilities?
Influence of the material quality on laser cutting
The quality of the cut surface depends very much on the material grade and its surface. Chemical structure and homogeneity of the material are important factors. Surfaces hardened by shot blasting, rust and scale can lead to a degradation of the laser cut quality. Scoring marks and wash-outs can form. For laser parts with high demands on the cut surface, there is material available which has been specially developed for laser cutting.
Advantages of laser cutting
Cutting of steel, rustproof steel and aluminium with the same machine
Production of almost every imaginable shape
Simultaneous processing of several orders
The use of inert gases eliminates the need for costly reworking
How is a laser cutting machine constructed?
With our laser cutting machines we can cut sheet metal plates of different formats. The heart of the system is the laser cutting head, which is moved in three axes via guide rails. By adjusting the Z-axis, the cutting head adapts to the height of the workpiece. Controlled feeds of the X and Y axes move the laser cutting head to any desired point.

The exact position, the sheet metal panel on the processing table, is determined by a three-point measuring procedure at program start. This allows a slight tilt of the material during cutting to be corrected. The cutting head is shielded with a protective cabin. This protects against dust and gas emissions as well as reflection of the laser beam.

The strong heating of the sheet metal during the cutting process leads to the vaporisation of elements such as chromium, nickel, copper or titanium from the plate metal, which in gaseous state have a hazardous effect on health. The extraction device with professional filter system in the protection cabin minimizes these emissions.