Roll Bending
Roll bending is carried out by us by using a four-roll bending machine. The possibilities are very diverse. We can produce tubes, rings, transitions, half tubes and conical curves for you.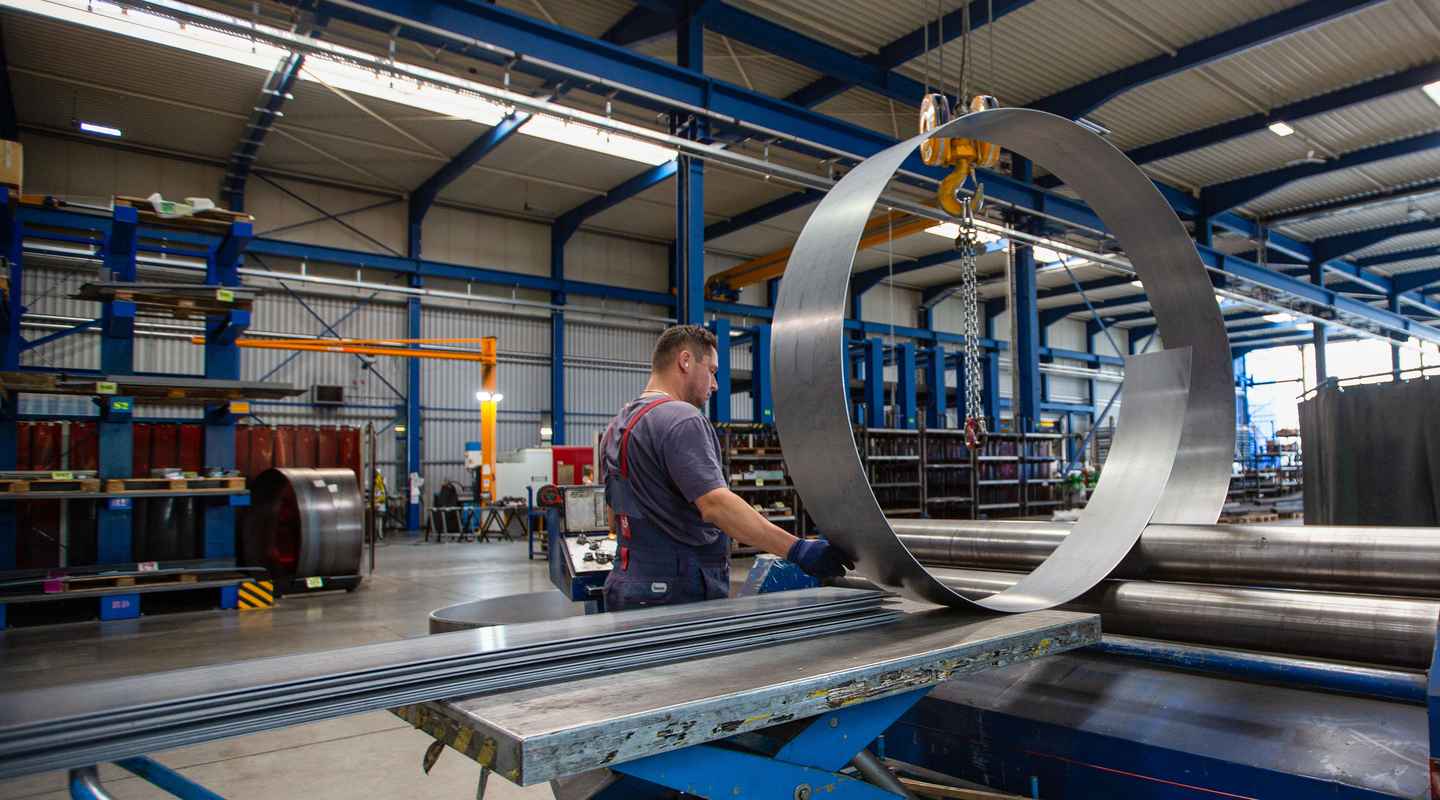 The smallest possible diameter is 260 mm. The processing can be done up to a sheet thickness of 6 mm.
At Rime, roll bending is carried out using a CNC 4-roll bending machine. Roll bending is comparable with bending, because the material is formed by the force applied. The process is used when a sheet metal panel has to be bent to a larger, smooth, radius.

Radii can also be produced by bending with bump-bending. In this case, the plate metal is bent in small steps to the desired radius. The bending steps are visible and the radius is not perfectly round.
You have a question about our production capabilities?
We are happy to help you! Call us or simply write an E-Mail.
How does roll bending work?
As the name suggests, our four-roll bending machine has four rolls. The position of the individual rolls in relation to each other plays an important role in making sure that the plate metal can be bent evenly round.

Basically, there are two rolls on the side. These can not be adjusted in height. Between these two rolls are two more rolls mounted. These two are adjustable in height in relation to the side rolls. In the basic setting, the three lower rollers are at the same height. Between the middle rolls is a narrow gap through which the plate metal is passed. 

In this setting, an unbent sheet of metal passes through the machine. After entering the type of material, sheet thickness and bending radius, the CNC machine adjusts to roll bending by adjusting the middle rolls downwards in relation to the side rolls. The lower these shafts are set, the further the material is pushed between the other 2 rolls and the smaller the bending radius will get.
You would like to receive an offer? - No problem!
Send us a short E-Mail with your wishes.