Contact
Call or email us if you have any questions.
On this page you will find practical advice how to get in touch with us as a new customer and information about renting storage space.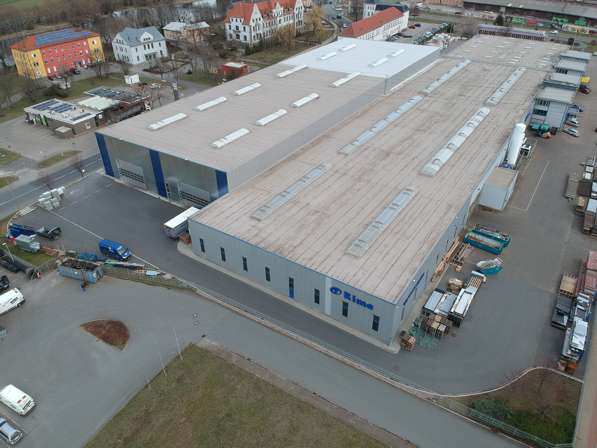 Contact Details
Rime GmbH
Blechbearbeitung & Schweißtechnik
Heinrich-Schönberg-Straße 6
01591 Riesa
Germany
Telephone: +49 (0) 3525 / 50690
Email: info@rime.de
Opening Hours
Monday - Thursday:
06:00 - 17:00
Friday:
06:00 - 15:30
Saturday & Sunday:
Closed
Your Advantages
DIN ISO 9001 certified
State-of-the-art machine technology
Laser cutting up to 16 x 4 m
Fibre laser cutting up to 60 mm
Bending up to 16 m length
Welding assemblies up to 50 t
Robot welding
EN 1090-2 & 3 certification
DIN EN ISO 3834-3 Certification
27 years of experience
Loading and unloading times for transport companies
Loading and unloading is possible from Monday to Friday from 6.00 - 14.00 hrs.
Outside these times, other loading and unloading times can be arranged by telephone.
Information for new customers
You don't have a contact person with us yet? That's no problem! Simply send an email to the address: info@rime.de. So that we can process your request as quickly as possible, we need the following information from you:
your name and, if applicable, the name of your company
your complete address
if possible, a telephone number for queries
Single part drawing(s) in DWG, DXF or PDF format
Renting storage space
We offer business customers the opportunity to rent storage space from us for a period of use of one month or more. Depending on the capacity utilisation, a total area of up to 10,000 square metres is available.

Please contact Mr Sebastian Krybus if you are interested in renting storage space.

You can reach him at the telephone number 03525 / 506946.
Further information on the storage areas
Transport Connections
Riesa is located approximately in the middle between Dresden and Leipzig, directly on the river Elbe. From the following list you can see the distances to the most important traffic connections:
A14: about 25 km
A4: about 48 km
A13: about 35 km
B169: about 1 km
B182: about 300 m
Goods station: about 1 km,
Port: (Elbe) approx. 1 km