Plate Metal Processing & Welding Company
If you are looking for a contract manufacturer for plate metal processing, then you have come to the right place! From bending to machining - we offer you a wide range of processing options. Benefit from our experienced employees and our large and modern machinery!
Sheet metal processing according to customer requirements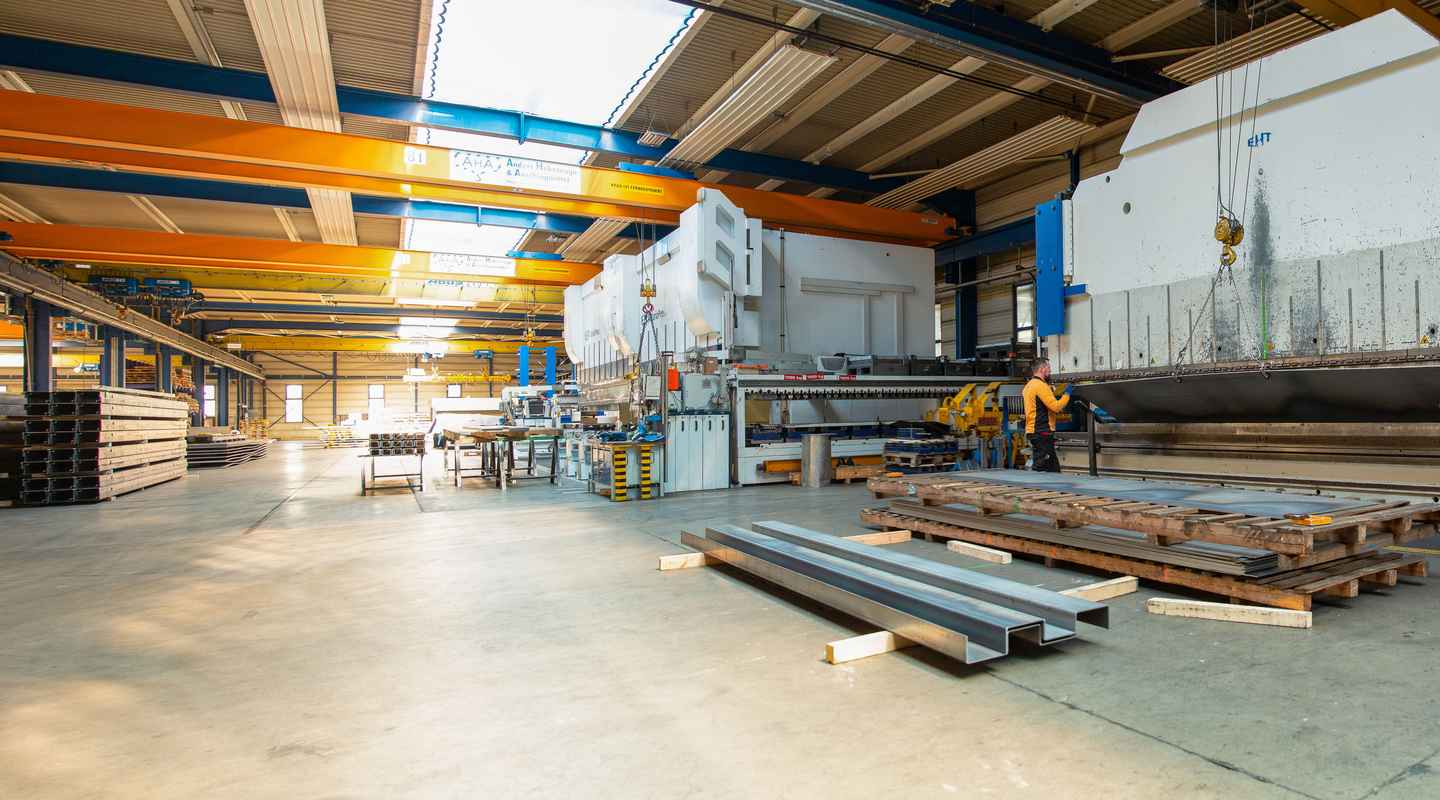 We are contract manufacturers in the field of sheet metal processing
We are experts in the field of plate metal processing and have over 30 years of experience in this industry. We offer the highest quality fabrication at competitive prices and ensure that your requirements are fully met. We work closely with our customers to ensure we deliver exactly what they need.
You have a question about our production capabilities?
We are happy to help you! Call us or simply write an E-Mail.
Laser Cutting
Laser cutting is one of our most important processing methods! With our 5 laser cutting machines we can produce all laser parts according to your requirements. The maximum working area is 16,000 x 4,000 mm. Chamfers up to 45° can be produced directly with the cutting. Our fiber laser allows cuts of extra thick material up to 60 mm.
Plate Metal Bending
All common plate metal formats can be bent by us. For short parts we use our press brake with a length of 1,020 mm. In the middle range we work with press brakes with a length of up to 3,500 / 6,000 and 8,000 mm. In tandem operation we can even bend plates up to 16,000 mm long and 25 mm thick.
Milling and Machining
In our machine centers, milling of complex assemblies is possible on the one hand on the working area 1,800 x 920 x 750 mm and on the other hand on 4,200 / 3,630 x 750 x 500 mm with a rotary table of 750 mm. The production of chamfers, welding seams or the incorporation of threads, bearing seats and fits into a product are also processed here.
More possibilities for plate metal working
Swing Beam Bending
With our modern swing beam bending machine we are able to carry out bending of plates up to a length of 4,040 mm and a thickness of 4 mm without tool marks.
Roll Bending
We can roll bend plates up to 2,500 mm wide and a maximum plate thickness of 6 mm and produce rings, transitions, half shells and tubes for you. The smallest diameter is 260 mm.
Shearing
Fast and cost-effective production of long, straight plate cuts up to a length of 8,100 mm is possible with our shears. The maximum sheet thickness for both machines is 8 mm.
Punshing
In the working area of 1,600 x 8,000 mm, we punch recesses, threads, louvres and beads for you. The punching machine can process steel up to 6 mm and rustproof steel up to 4 mm.
Breaking Edges
We can break, deburr and round the edges of plates with our grinding machine. The maximum working area is 1,600 x 8,000 mm. The processing of steel, rustproof steel and aluminium is possible.
Barreling
We remove sharp edges and burrs from small parts with the help of our vibratory grinding machines. This process is also suitable for cleaning, degreasing and descaling workpieces.
We are a certified welding company!
Welded assemblies - up to 50 tons in weight