Breaking Edges
Some machining processes may often cause burrs. These not only represent a risk of injury, but also influence the dimensional accuracy of the workpieces. For these reasons burrs should be removed.
There are various processes for this purpose, such as grinding, milling or barreling. It is very time consuming and expensive to remove burrs manually. With larger workpieces, quality fluctuations can also occur due to the use of manual grinding machines.
For this reason, we have invested in a modern rotary brush machine with which we can process workpieces up to a width of 1,600 mm.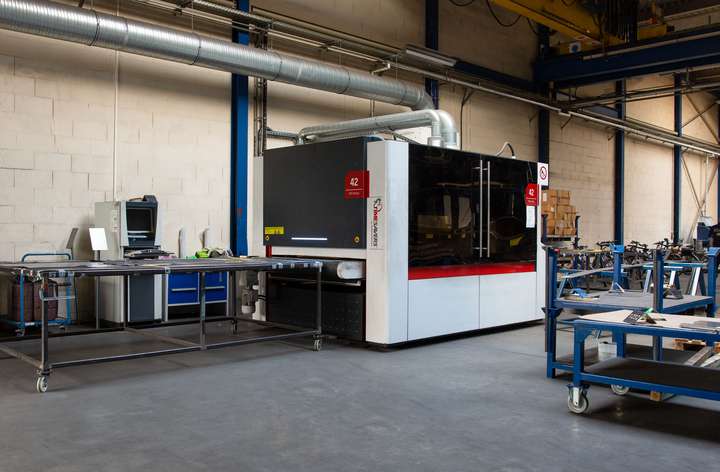 Timesavers 42 RB
8 grinding brushes
working width: 1,600 mm
workpiece length: up to 5,000 mm
Workpieces from a size of 100 cm² upwards
material thickness: 3 - 100 mm
Processing of various types of material such as aluminium, steel and stainless steel
Grinding of flat and shaped parts
Deburring, rounding and edge breaking with the same machine
Foil-coated nonrusting steel parts can be deburred easily without removing the film, because the film is not damaged. Grinding of stainless steel is done with the deburring brushes switched off to avoid destroying the grinding pattern. This grinding pattern is not as homogeneous as the "factory grinding" and for this reason is less attractive.
5 good reasons for breaking edges
| Processing time | Simultaneous machining of all workpiece edges, including existing cut-outs etc. |
| --- | --- |
| Visual | Burrs are often considered unpleasant, especially in visible areas. |
| Functional | The product cannot be used at all or only with difficulty due to the burrs. |
| Mountability | The work piece does not fit into the construction or the burrs prevent an accurate positioning. |
| Further processing | With burrs the workpiece cannot be clamped correctly or it does not lie straight on the machine table. |
| Security | Burrs and sharp edges are a safety risk and can lead to cutting injuries |